Third Level 1


Third Level 2


Third Level 3


Third Level 4


Third Level 5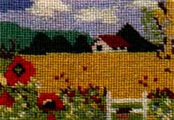 YLI Jeans Stitch Thread

Support my local quilt shop! Not my own personal shop, but a shop that I love to go to!
Sew and So's at Bungay in Suffolk UK stock the entire range that you can see above. At present they are £4.95 sterling per reel. For mail order details click here:
Although these are not featured on their website they will supply them if you just state which colour you want. Click on the pictures to see larger pictures. Or click here to see a supersize version of each photo. Picture one. Picture two. These pictures are very large and will obviously take a while to load but you will get the best view of the threads.
200 yards on each reel. 100% spun polyester.
Colours and numbers:
White
Black
1 Hot pink
2 Red
3 Cranberry
4 Brown
5 Green
6 Navy
7 Jean Gold
8 Topaz Gold
9 Royal Blue
10 Light Blue
11 Purple
12 Lavender
13 Sea foam green
14 Beige
15 Soft Green
16 Soft Yellow
17 Burnt Orange
18 Soft Pink
There are no threads numbered 19-22
Bottom row
23 Off White
0VA (Bright) Varigated
2VA (Blue/pink) Varigated
3VA (Yellow/orange) Varigated
4VA (Dark blue) Varigated