The early pieces


Bedding


Knitting 3


Knitting Tips


The Skirt Collection


Most Recent Work 1


Most Recent Work 2


Most Recent Work 3


Most Recent Work 4


Most Recent Work 5


Most Recent Work 6


Most Recent Work 2010


Smaller Scale knitting


Display Cabinet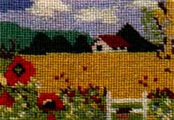 Miniature Knitting - the Skirt Collection

Knitting for Dummies!
New A video that shows me knitting in miniature to give you an idea of the size needles and thread that I use.
http://www.youtube.com/watch?v=FKdSn0ZPbek
I know that a lot of people come looking for free knitting patterns from me. I'm sorry that none are written up and to be honest they wouldn't fit a doll anyway -the requirements for a mannequin are less stringent than a doll. I am loathe to sell patterns that may not fulfill other people's expectations, and to give away free patterns would be unfair on other people who are trying to make a bit of a living from their own patterns.
Click on thumbnails for larger images
Peach ball gown with hundreds of seed pearl beads.
Please excuse the broken foot - too much dancing!
This two piece outfit is my contribution to the Cancer Research raffle organised by Pat Cutforth at the September 2003 Miniatura in Birmingham, UK.
This outfit has sparkly beads sewn on the front
For the most recent knitting click here